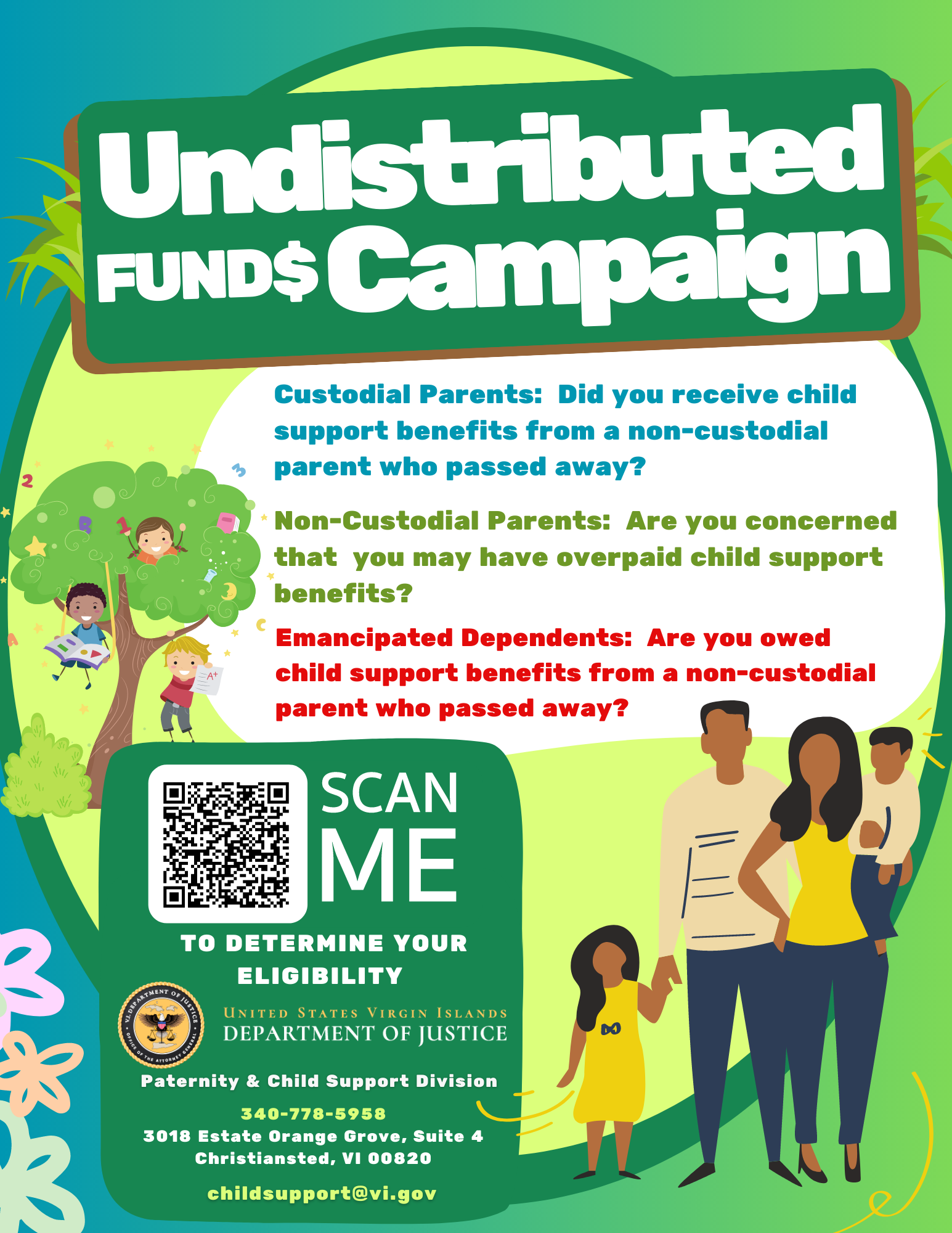 The Department of Justice's Paternity and Child Support Division is proud to launch the Undistributed Funds Campaign, a comprehensive initiative aimed at identifying and allocating unallocated child support funds to their rightful recipients. Our mission is to empower families and create a positive impact on children's lives by ensuring they receive the benefits they are entitled to.
The Undistributed Funds Campaign is a comprehensive initiative that involves a meticulous review of child support payment records. Our dedicated team will conduct an extensive investigation to identify any unallocated funds within our system. We understand the importance of these funds in supporting the well-being and future of children, and we are committed to rectifying any discrepancies.
Together, we can ensure that every child receives the benefits they are entitled to and promote a society where the needs of children are prioritized. This campaign demonstrates our unwavering commitment to child support and the welfare of children. Through a proactive approach, we can create a tangible impact, ensuring that every child's support benefits are accounted for.
We invite you to be part of this important endeavor. Join us, and together, let us ensure that every child's support benefits are accounted for.
---
The Paternity and Child Support Division (PCSD) of the Virgin Islands Department of Justice provides financial support to children through the establishment of paternity and the establishment and enforcement of child support obligations.
PCSD focuses on building financial bridges between non-custodial parents and their children, and to support and enhance the emotional and financial relationships necessary for successful dual parenting.
A complete listing of all of the USVI Paternity and Child Support Statutes is available on our website at www.pcsd.vi 
Access & Visitation Program: For additional information about services available to both parents, learn more about our program at https://pcsd.vi.gov/ 
FAQ(Frequently Asked Questions)