(U.S. Virgin Islands)- Attorney General Denise George announced that members of the Virgin Islands Department of Justice (VIDOJ) participated in a "Firearms Smuggling and Global Trade Enforcement workshop" sponsored by the U.S. Dept. of Homeland Security, the National IPR Center, and HSI Caribbean.
The event was funded by the U.S. State Department and U.S. Embassy and held in Punta Cana, Dominican Republic August 2-6, 2021. The workshop included police and prosecutors from all throughout the Caribbean, Haiti, and the Dominican Republic and included training, conference, and round table discussions on a wide range of issues unique to the Caribbean, with a special emphasis on building crime-fighting partnerships and alliances throughout the region. Representatives of the VIDOJ presented on the importance of establishing inter-agency partnerships and collaboration amongst Caribbean law enforcement agencies in the fight against illegal firearms smuggling and intellectual property crimes.
The VIDOJ's presentation was held on Tuesday, August 3rd with opening remarks from Attorney General Denise George. AG George told the audience, "The organizations behind the mass production and distribution of counterfeit products are the very same organizations smuggling illegal weapons and drugs into our countries and territories. By working together, we can begin to push back the threat that these transnational crimes pose to our public health and safety". VIDOJ Assistant Attorney General Robert C. Barchiesi's presentation was entitled "Interagency Partnerships and Collaboration Among Caribbean Law Enforcement Agencies in the Investigation of Intellectual Property Crimes". AAG Barchiesi stated "to reduce gun violence in our community, it's going to take strategic partnerships and resources that transcend well beyond our borders. This workshop helped connect us with our Caribbean counterparts at all levels of government to help us expand our crime-fighting efforts. Together we stand committed to combatting the illegal shipment of weapons and other harmful goods from pouring through our borders."
VIDOJ Director of Special Investigations Divisions, William Curtis gave an overview of the Special Investigations Division of the V.I. Dept. of Justice. AG George said she is delighted that VIDOJ representatives participated and looks forward to the new networks of relationships forged during the event. "Our office is especially excited to have been amongst other Caribbean countries in attendance, who we also know share the same common goal of protecting people from the very dangers associated with the transnational crimes which is the subject of this workshop. Our responses must always be global, it must be coordinated, and it requires every bit of our efforts to stop."
The workshop concluded on August 6th with a presentation of certificates to the attendees.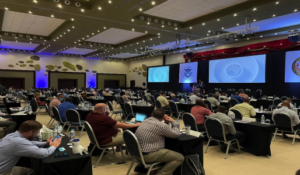 Prosecutors photo with prosecutors from the Dominican Republic, Jamaica, Aruba, and the United States Department of Justice.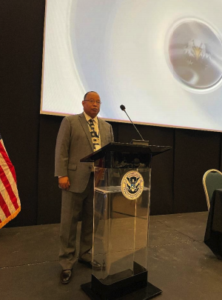 VIDOJ Director of Special Investigations Divisions, William Curtis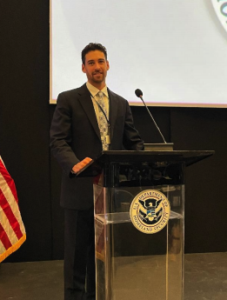 V.I. Dept. of Justice- Assistant Attorney General Robert C. Barchiesi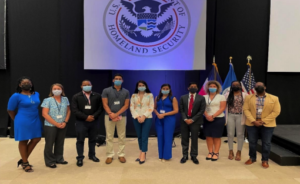 Firearms Smuggling and Global Trade Enforcement workshop held in Punta Cana, Dominican Republic
FOR IMMEDIATE RELEASE
August 10, 2021
Sandra Goomansingh
Media Relations Director
(340)774-5666 ext. 10105
Email: Sandra.goomansingh@doj.vi.gov